Yes you can! As an Accor Plus , the Dining Offer allows you to earn Reward points for every euro spent in bars and restaurants at certain participating hotels, even when you are not staying at the hotel.
To find out where the Dining Offer is available, an interactive map is available here.

You can use geolocation or the searching engine to find participating bars and restaurants in a country or city. Participating bars and restaurants that match your search will automatically be displayed.
Their full contact details are displayed when you click on one of these locations, as well as the payment card types accepted as part of the Offer.

With this offer, any meals or drinks consumed at participating bars and restaurants earn you 1 Reward point per euro, including taxes (to the exclusion of tips).

Payment methods and payment cards accepted as part of the Offer vary according to participating establishments.

We advise you to always contact the team at the bar or restaurant where you are at to find out whether they are participating in the Offer and to check whether your method of payment and payment type are accepted. They can also tell you how to make sure you earn Reward points with this Offer.

It is worth noting that using Reward points as a method of payment is not available through this Offer. You cannot use points to pay a bill at a participating bar or restaurant outside of hotel stays.

In certain cases, you may be asked to register your payment card information in the Accor All app and to link it with the Dining Offer. This process is described further here .

Earning Reward points through the Dining Offer exclusively relates to the expenses that you pay directly at the participating Bar or Restaurant. Any orders or items for consumption paid via an intermediary or delivery platform (Deliveroo, Uber Eats, etc.) are not eligible.

The Reward points linked to your eligible expenses are automatically credited to your ALL account and added to your points statement within 7 working days of your visit to our participating bar or restaurant.

Reward point credits received as part of the Dining Offer extend the validity of your Reward points balance by 365 days, from the date that these points are credited.

NOTE: The Dining Offer does not apply to services consumed as part of an eligible stay or minibar consumption, and cannot be combined with the Meeting Planner Offer when organising professional events.
Please Note: Visa cards are the only eligible cards for this ALL dining offer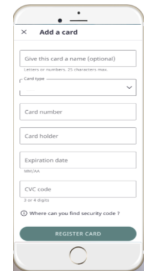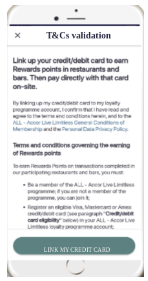 As an Accor Plus member, you can enjoy your dining benefit of up to 50% off the dining bill and earn Reward points at the same time!
Please note that this benefit is still being rolled out globally, so please do check with the restaurant if they are participating.