There are three ways you can book a stay online:
Accor Plus website (accorplus.com)
Login to
Book a stay from the homepage or using the Hotel Search. You can search for either a specific hotel or by location.

You can also search for Stay Plus night availability by location and hotel. Remember to select "Ýes" from the drop down box if you wish to use your Stay Plus complimentary night.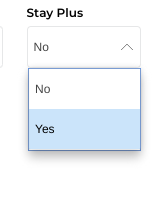 Accor website (all.accor.com)
The ALL website is another way to search for exclusive Accor Plus rates. To access these great rates, login to all.accor.com
Then search by location or hotel name and select your preferred hotel and room rate

ALL app
You can also book your next stay and enjoy your exclusive member rates on the ALL app. Simply download the ALL app to your smartphone from the iOS App Store or Google Play Store.
Login to the app (using the same login and password as the website) and then search for your destination.